Love of Too Much Living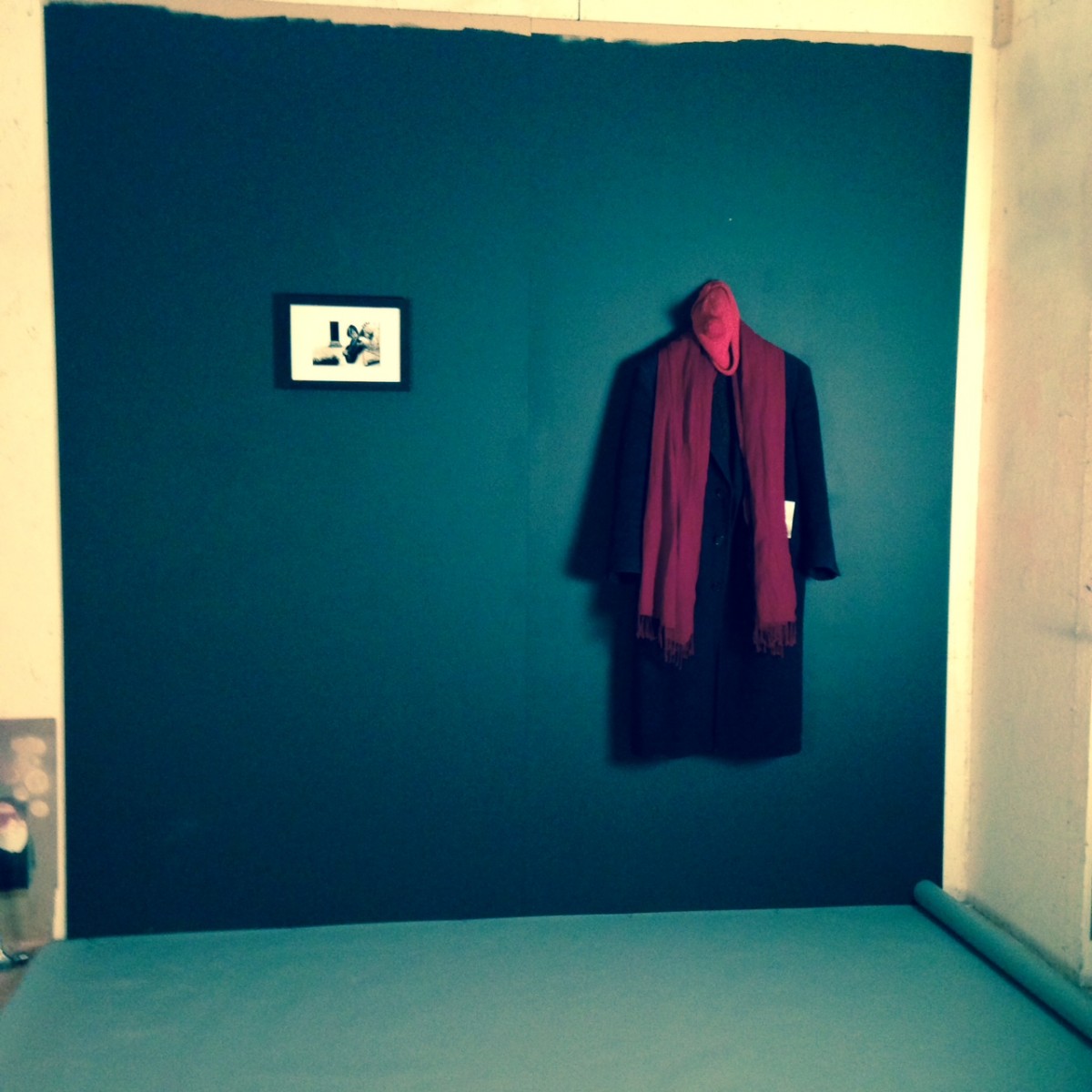 Tours and Plans!
Pals. I went to Oxford last sunday and finished mixing the album! The design is looking sweet tour and the mastering is going to be starting next week. I'm putting some secret and very awesome plans together for september which i'll announce when they're ready…
But for now, i'm so buzzed to announce my tour dates for April and May – and i'm delighted to be doing some dates in April with the totally amazing Firefly Burning and then some dates in May with the incredible Sam Lee. Then the summer festival season starts, bring on the sunshine! Hope to see you at a gig soon! Big love J x x
Magic Lantern – April & May Tour Dates
16 April – The Pheonix – Exeter w/Firefly Burning
18 April – Cafe Kino – Bristol w/Firefly Burning
27 April – The Gladstone – London w/Firefly Burning
2 May – Ropetackle Arts Centre – Shoreham-w/ Sam Lee
7 May – Pontardawe Arts Centre – Pontardawe w/Sam Lee
8 May – St David's Hall – Cardiff w/Sam Lee
9 May – St John the Evangelist Church – Oxford w/Sam Lee
24 May – C-FaB Festival – Lincolnshire
Hey!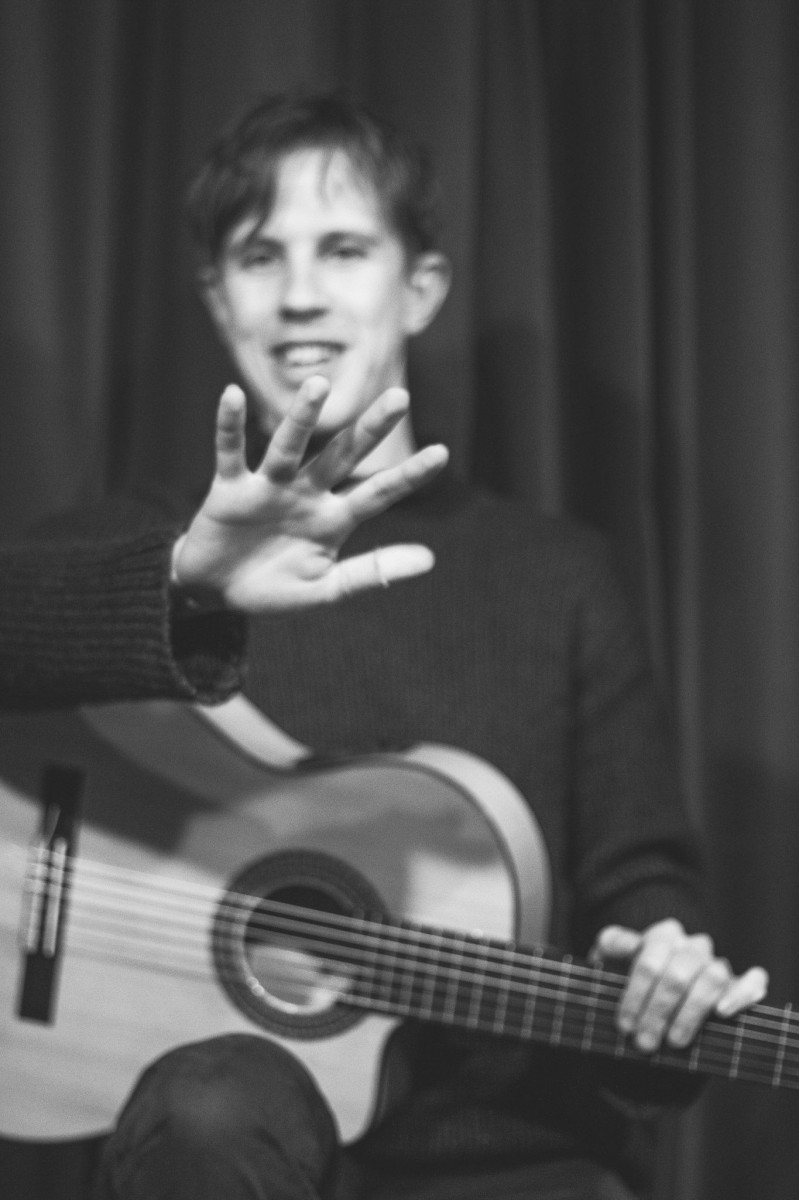 The Living Room, Soho, Feb 2014. Photo by Janssem Cardoso.
Que duende! Paco!
February Gigs!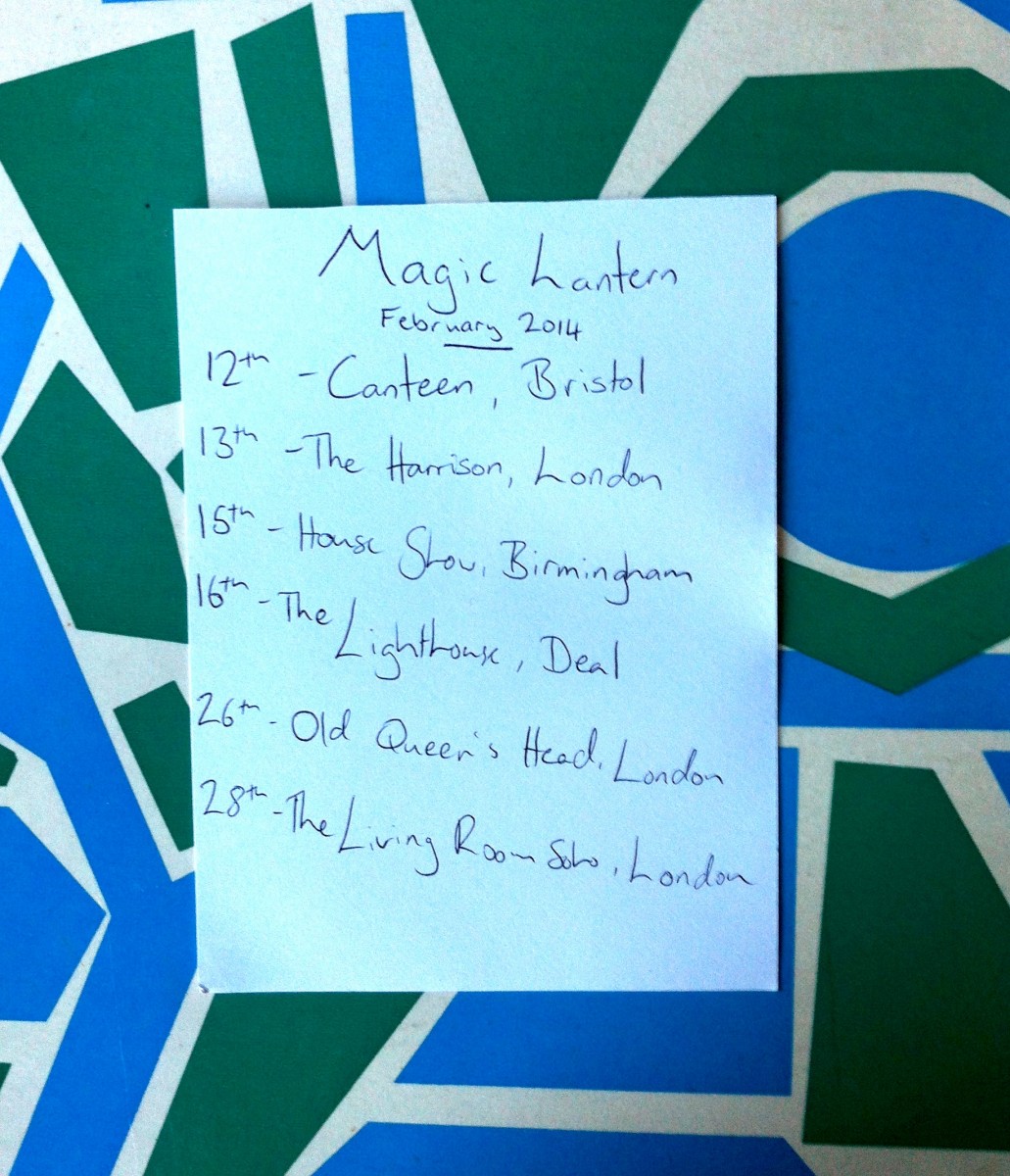 Pals, I'm playing some great gigs this month, would be great to see you at one of them!
12th – The Canteen, Bristol
13th – The Harrison, London
15th – House Show, Birmingham
16th – The Lighthouse, Deal
26th – Old Queen's Head, London
28th – The Living Room Soho, London
Listening to the latest mixes of the album this evening!
J x
'Winter' live at the Living Room in Soho
We live in a post-beard world!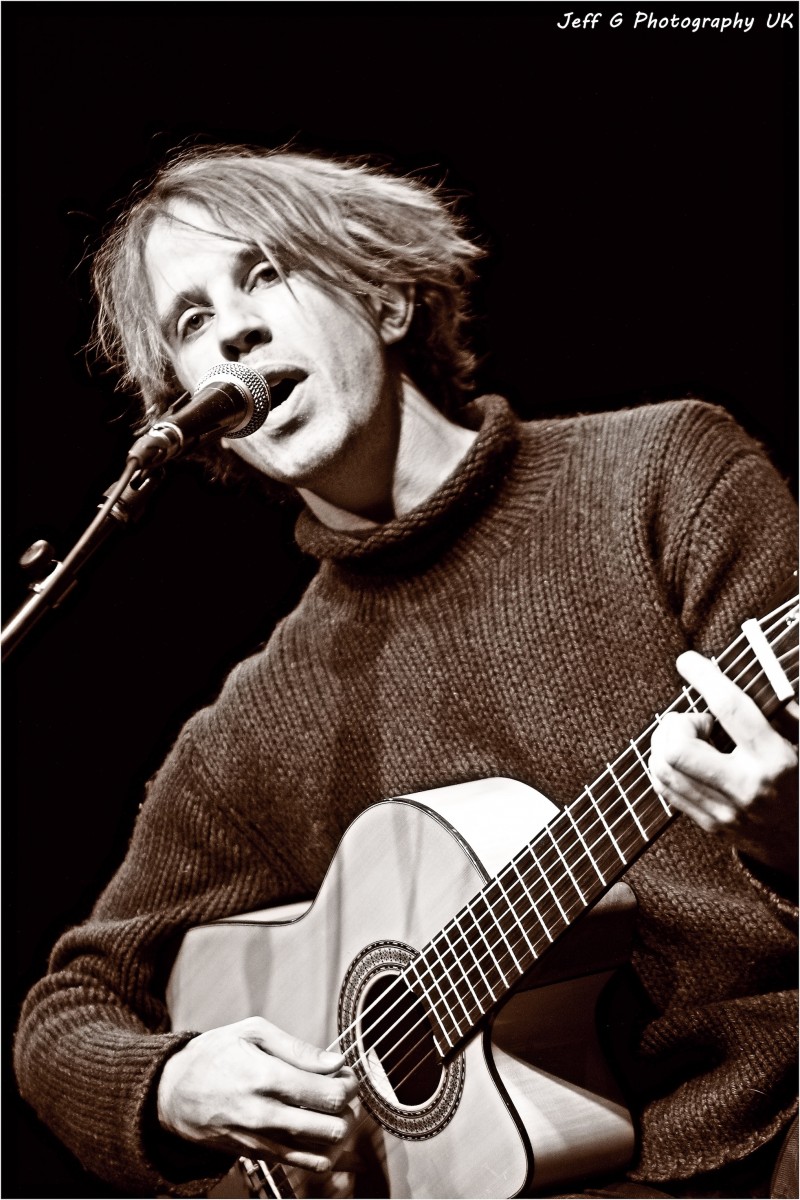 Taken by Jeff Golderg at Rich Mix, London 5 Jan 2014
The album is finished!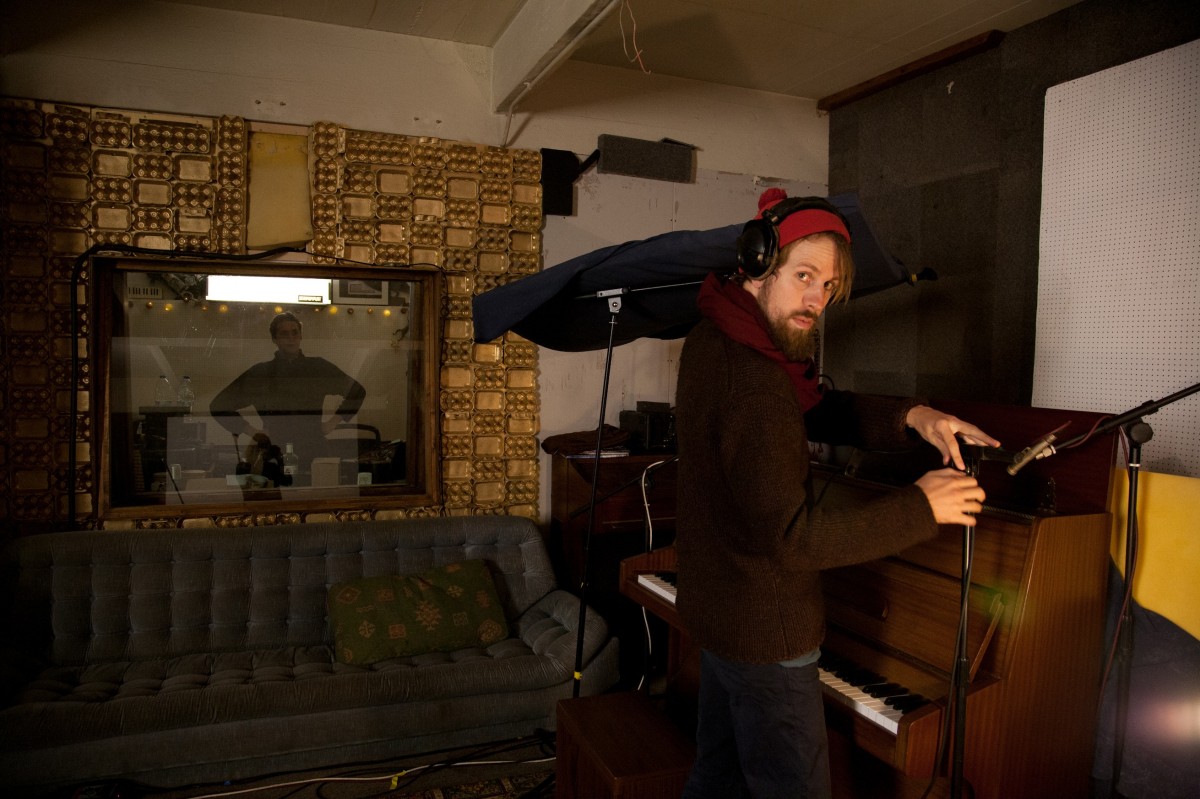 Happy new year pals! I'm happy to say that i have finished recording the album which will be called 'Love of Too Much Living'. My beard has been shaved off – i have a chin again! Mix and mastering will be done by end of Jan and it will be out at the end of April 2014 fingers crossed x
November Newsletter
So the scarves are out and we're all looking for that other glove, raincoats need re-waterproofing and the heaters are cranking up with that dusty-haven't-been-used-for-6-months smell. Well, I am very pleased to say that at least half the album is done and with one more recording session scheduled I am quietly optimistic about being able to shave soon! (see the beard in proud style in the above photo by Ollie Hammick). I spent the weekend up at SAE studios in Oxford working with sound giant Dean McArthy and the calming influence of Max Jones and I think we got some really good takes done. The irony is not lost on me that when this album is finished i'm sure it will sound like i just sat down in front of a mic one afternoon and bashed it out. The long, frustrating but ultimately important journey that it's been to get this album together will be largely unknown and I guess that's how it should be, but jeez, it's not easy! Onwards!
Anyway, while the album nears its conclusion (touch wood), I am really excited to be doing two great gigs before the year is out. The first is tomorrow night, Friday 15th November, at 'Word Is Born' – an awesome night that brings together musicians and spoken word artists from all different genres. Tomorrow i'll be playing alongside spoken word artist Sean Mahoney and jazz group Pocket-Size. Entry is a steal at £3 and i'll be playing last about 10ish so come down if you're around. To get in the groove, the Word Is Born crew interviewed me for their 'Ultrasound' podcast where they asked me to bring three tracks that i've been listening to over the last month and talk about them (Chris Hyson, Sam Amidon and Rozi Plain in case you're wondering!) and you can hear it here!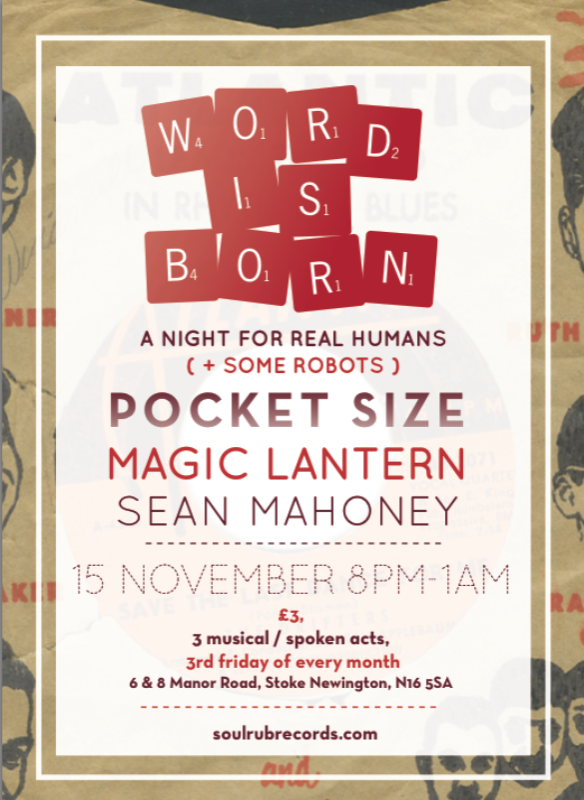 Then to close out the year I am thrilled to have been asked to play at the beautiful Wilton's Music Hall supporting the mighty soul/jazz/world ensemble Teotima, brainchild of guitarist-composer Greg Saunders, at the launch of their debut album 'Counting The Ways'. Wiltons is one of the best preserved original east london music halls left and has the most amazing acoustic. I'll be opening with a 45 minute set which Im really excited about. Please come down if you're around, its going to be a special gig, you won't have seen anything quite like Teotima in London before!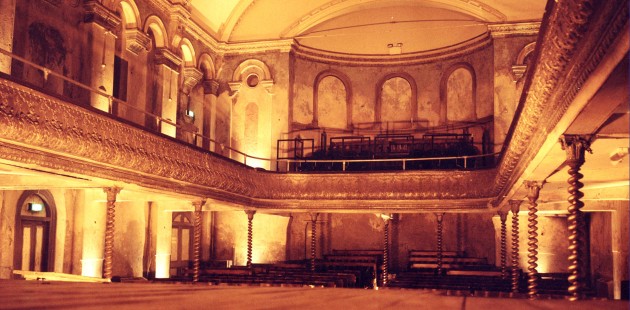 So, where are we then?
Ok, so things have been taking a lot longer than expected. That's alright. I've given up worrying now, its going to take the time it takes right? I went to the lovely Woodshed studio in Bristol a few weeks ago, and working with Max Jones who's helping me not go mad while i record, we got a lot of good stuff done – massive thanks to Ben Capp who engineered the session and in general is just an all round good guy to put up with my stressful ways – and I think at least two tunes from that session will make it on album.
But looking for a slightly different thing, i've packed up again and am heading to SAE in Oxford to work with studio megaman Dean McArthy this weekend for what i hope will be the final session. Max will join me again and i have take this opportunity to say how important he's been in helping me do all this. He really is a legend. My practice has been going really well these last few days – the main thing i think has been just learning to not totally stress myself out and become excessively negative as soon as things don't go well, which always happens. Recording is hard! These songs are hard to play and sing! I don't want to overdub so inevitably i make mistakes, i'm still having trouble with my voice, but i feel confident at the moment and can't wait to get in the studio.
In meantime, I had a great gig at the Woodburner 'Capsize the Stars' festival last sunday and am really excited to playing at the Word Is Born on the 15 November at The Others in Stoke Newington and then gearing up for big gig at the beautiful Wilton's Music Hall on the 10 December supporting Teotima for the album launch.
Lastly, I did photo shoot with Ollie Hammick to try and capture the beard which due to the lack of a finished album, is still very much growing. Here is one below.
thanks for you patience and continued support,
big love
Jamie x