About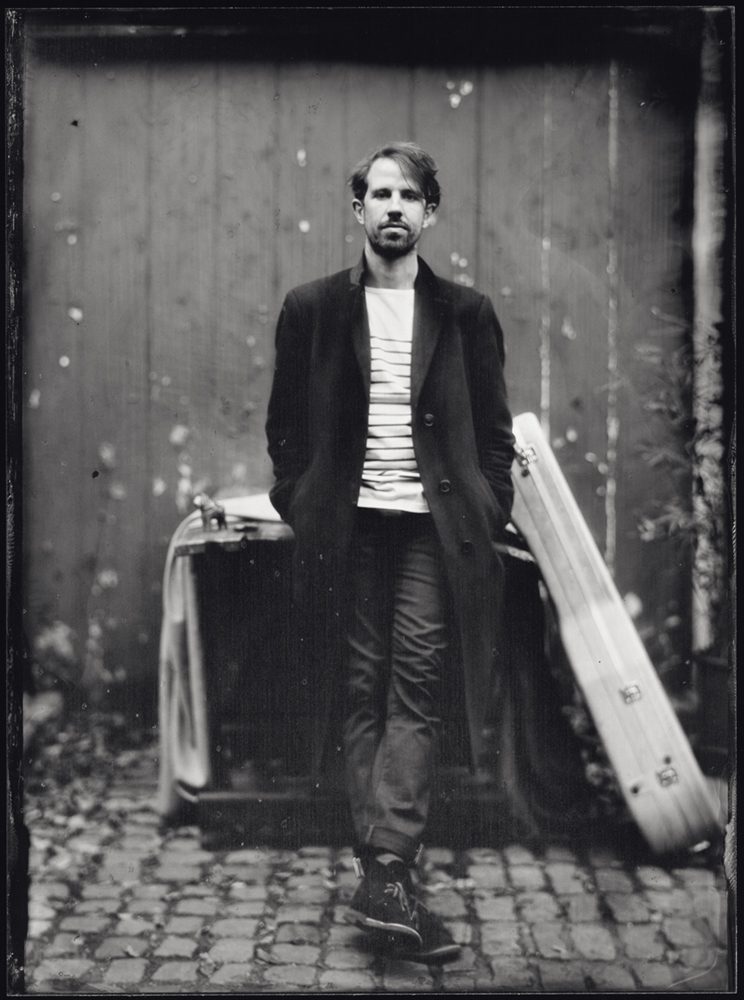 "Very, very special"
– Lauren Laverne, BBC 6 Music
"Intriguing, compelling and exceptional. A man to watch"
– The Guardian
"An exciting new talent"
– Mark Radcliffe, BBC Radio 2
"Bitter sweet, beautiful music"
– Verity Sharp, BBC Radio 3 Late Junction
"A classic album, I love it!"
– Bob Harris, BBC Radio 2
"**** Beautiful, engrossing music"
– musicOMH.com
Bio
The Magic Lantern is the musical moniker of Jamie Doe. With an immediately arresting voice that has been compared to Chet Baker and Jeff Buckley and a unique guitar style that takes elements of folk finger picking, flamenco and West African music, the 10 songs that make up his second album 'Love of Too Much Living' sound deceptively simple at first but open up to reveal a warmth, humour and wisdom that mark The Magic Lantern out as an artist with a unique song writing voice.
Born in Australia before moving to the UK at 12, it was while studying philosophy in Bristol that Jamie began performing as The Magic Lantern alongside friends and long-term collaborators in the DIY Bristol music scene including This Is The Kit, Rozi Plain and Rachael Dadd. Moving to London, Jamie expanded The Magic Lantern into a quintet of friends and together they evolved a transporting sound inspired by the immediacy of Jamie's lyrics and lilting melodies and a shared love of improvised music. The Magic Lantern's debut album 'A World In A Grain Of Sand' was mixed by Leo Abrahams (Brian Eno, Paul Simon) and released in June 2011 and has been critically acclaimed by Late Junction's Verity Sharp, Bob Harris and Tom Robinson (BBC Radio 3, 2 and 6 respectively) among others.
Keen to focus on the intensity that comes with stripping everything away, Jamie dissolved the quintet line up to return to playing and writing on his own. 'Love of Too Much Living' is the product of two years spent crafting this new musical approach, playing hundreds of gigs around the UK to an ever-increasing audience of enthusiasts. Describing his approach to song writing Jamie says,
"I think of songs as miniatures, where the world, mood or experience they suggest is greater than the sum of their parts. In the same way an artist implies a face with a few lines, I'm always asking how can this song be more powerful by the space I leave around it?
'Love of Too Much Living' is a record stripped back to the essentials of voice, classical guitar and piano to create a mesmerising sound world that addresses the difficulties of coming of age, navigating ambition, love, loss and our perennial search for acceptance.
Since its release in October 2014, Jamie has toured across the UK, Europe and Australia and compiled an album of other musicians versions of his songs, 'Love of Too Much Living – Remakes' featuring This Is The Kit, Sam Brookes, Emilia Martensson, Wallis Bird, Rozi Plain and Hot Feet among others. It was released in December 2015 with all proceeds going to the male suicide prevention charity the 'Campaign Against Living Miserably'.
Currently recording his third album 'To The Island Jamie Doe is a rising star of London's diverse music scene with 2016 seeing him as at home performing with Jamie Cullum at the BBC Proms as singing on Mercury Nominated folk artist Sam Lee's 'Lovely Molly' winning 'Best Traditional Track' at the BBC Radio 2 Folk Awards.
'To The Islands' was written during a tumultuous journey to Australia, after nearly 10 years away and explores memory, hope and anxiety in a world of near constant uncertainty. Working with a full band for the first time in 4 years and reunited with producer Fred Thomas, the album promises to be his most ambitious musical statement to date. 'To The Islands' is due for release in the winter of 2017/18.
Bookings & Press: [email protected]
Publishing:[email protected]